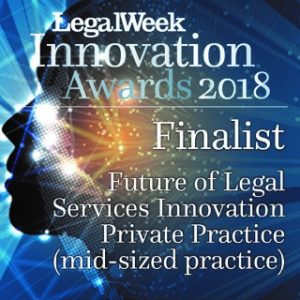 Griffin Law has been shortlisted as a finalist at the Legal Week Innovation Awards 2018, in the category 'Future of Legal Services Innovation – Private Practice (mid-sized practice).'
We have been recognised for breaking new ground via our charitable work with 'Hear Their Cries'; a charity aimed at preventing child abuse in the aid sector; prosecuting perpetrators of those crimes; and protecting children around the world. We are partnering with the charity in a quest to eradicate child abuse in the aid sector.
Our chairman, Andrew MacLeod, also a finalist in the 'Outstanding Achiever of the Year' category at the British Ex Forces in Business Awards, has been working tirelessly for almost a decade to bring the issues of child abuse in the aid sector to light. We have joined forces with Hear Their Cries as a result of the shocking statistics released by the United Nations Secretary General in March 2017.
It was reported that in just one year, peace keepers and civilian staff of the United Nations had committed 145 offences of sexual exploitation and abuse against 311 victims. The statistics only account for reported incidences. There were no prosecutions.
Ethical Litigation such as the above is the future of legal innovation. It is the practice of using both the courts of law and the courts of public opinion in a synergistic way that doesn't undermine justice. By working together with victims, witnesses, governments and NGOs, we hope to bring justice to, and be the voice the victims of these crimes have been deprived of.
Griffin Law is committed to step up and protect some of the most vulnerable and defenceless victims in the world. Are you?
If you would like to be involved or are interested in hearing more about the work of Griffin Law and Hear Their Cries, you can email justice@griffin.law or call 01732 525923