A recent case has served as a cautionary tale for individuals, businesses and public bodies who utilise security cameras and video doorbells to maintain the security of their premises.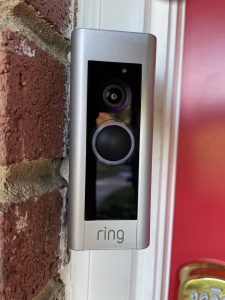 In Fairhurst v Woodard (Case No: G00MK161), the parties were neighbours who both had access to a shared driveway leading to a car park. Both of their properties backed onto the car park.
The Defendant, Mr Jon Woodard, installed a number of security devices. This included a Ring doorbell camera, two Ring spotlight cameras and a Nest camera.
In the proceedings, the Claimant, Dr Mary Fairhurst, said that the Defendant had failed to be open and honest with her about the cameras, had invaded her privacy, and intimidated her when challenged about their use.
The Judge ruled that the use of video cameras and the subsequent dispute between the parties resulted in a breach of the Data Protection Act 2018, because the audio and images amounted to personal data, with the retention and transmission of this constituting the processing of data. It was therefore concluded that Mr Woodard was the data controller so he must comply with provisions contained within data protection law.
It was also found that the Defendants conduct had caused the Claimant alarm and distress which amounted to harassment, in accordance with the Protection from Harassment Act 1997. This behaviour included threatening to provide her image to the police, and falsely claiming two of the cameras were non-operational dummies.
As a result of the above, it was determined that the Claimant was entitled to compensation and an order preventing the further breach of her rights. The judge requested further submissions before determining quantum and consequential matters at the handing down of the judgement.
It is important to note that the case is specific to its facts. Indeed, it was not found that use of CCTV would per se amount to harassment, but the Defendants behaviour in relation to this.
Nonetheless, the case will be of interest to the estimated more than 100,000 people in the United Kingdom who own a Ring doorbell.
The Information Commissioner's Office has issued a Code of Practice, which organisations may wish to familiarise themselves with, with recommendations on the use of CCTV systems to assist them with the compliance of the Data Protection Act.
---
Griffin Law is a dispute resolution firm comprising innovative, proactive, tenacious and commercially-minded lawyers. We pride ourselves on our close client relationships, which are uniquely enhanced by our transparent fee guarantee and a commitment to share the risks of litigation.  If you have any specific questions regarding a dispute, please email  justice@griffin.law or call 01732 52 59 23.
GRIFFIN LAW – TRANSPARENT FEES. TENACIOUS LAWYERS. TRUSTED PARTNERS.
Nothing in this document constitutes any form of legal advice upon which any person can place any form of reliance of any kind whatsoever. We expressly disclaim, and you hereby irrevocably agree to waive, all or any liability of any kind whatsoever, whether in contract, tort or otherwise, to you or any other person who may read or otherwise come to learn of anything covered or referred to in this document. In the event that you wish to take any action in connection with the subject matter of this document, you should obtain legal advice before doing so.
© Griffin Law Limited, 2021. All rights reserved.