From the entire team at Griffin Law, we would like to extend a sincere thank you to everybody that joined us to support The Griffin Law Charity Lunch in aid of Care after Combat that took place at the prestigious House of Commons on Friday, 4th October.
130 of our loyal clients, colleagues and peers joined us at our annual fundraiser in support of Care after Combat. The charity works hard to provide professional assistance to veterans and their families who find themselves suffering the after-effects of war after risking their lives to fight for ours. Together we raised a brilliant total of over £8,000 on the day.
We are profoundly grateful, as is Jim, for the generosity shown through both support and donations at the event.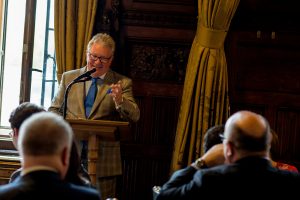 This will go a long way in assisting Care after Combat with the fantastic work that it does.
If you would like to donate to Care after Combat, you are able to do so directly via the website
If you would like to be notified of future events that Griffin Law hosts, please contact us today to be added to our events mailing list.
We hope to see you soon.
The Griffin Law Team.