Griffin Law has received a mention in the Kent Legal Sector Review 2020 because of our ranking in Legal 500. Research carried out by Legal 500 is based on feedback from 300,000 clients worldwide, submissions from law firms, interviews with leading private practice lawyers, and a team of researchers. More than four million users visit the Legal 500 website each year and this guide offers those buying legal services in the UK, reliable and up-to-date information on law firms. The 2021 directory sees Griffin Law maintain its ranking of 'Leading Firm'. The team receives a glowing report:
'A phenomenal team providing a world-class service for individuals and companies alike…the work they produce is outstanding and they punch well above their weight locally, nationally and internationally.'
'They unfailingly back their opinions on the outcome of litigation with their own cash. Risk-sharing is in their DNA which ensures that cases are pursued with maximum vigour and imagination.'
Click on the image to see the Review.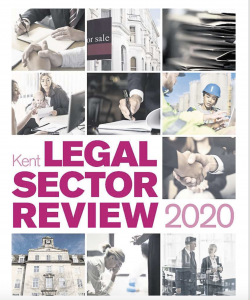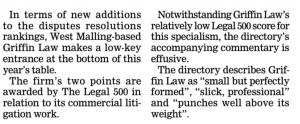 Griffin Law is a dispute resolution firm comprising innovative, proactive, tenacious and commercially-minded lawyers. We pride ourselves on our close client relationships, which are uniquely enhanced by our transparent fee guarantee and a commitment to share the risks of litigation. 
If you have any specific questions regarding a dispute, please email  
justice@griffin.law
 or call 01732 52 59 23.
GRIFFIN LAW – TRANSPARENT FEES. TENACIOUS LAWYERS. TRUSTED PARTNERS.
Nothing in this document constitutes any form of legal advice upon which any person can place any form of reliance of any kind whatsoever. We expressly disclaim, and you hereby irrevocably agree to waive, all or any liability of any kind whatsoever, whether in contract, tort or otherwise, to you or any other person who may read or otherwise come to learn of anything covered or referred to in this document. In the event that you wish to take any action in connection with the subject matter of this document, you should obtain legal advice before doing so.
© Griffin Law Limited, 2020. All rights reserved.