We were delighted to sponsor the book launch of Iain Dale's 'The Presidents', held at the British Ambassador's Residence in Washington, DC on 28 February. The publication features essays, written by a range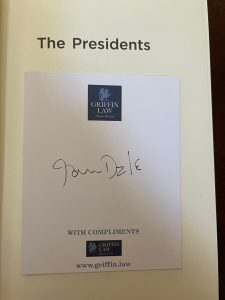 of academics, historians, political journalists, and serving politicians, on all 46 American Presidents who have held office over the last 230 years – from George Washington to Joe Biden.
Griffin Law founder, Donal Blaney, attended in person alongside the British Ambassador, President Biden's sister, and other ambassadors, political leaders, and influencers, to support Iain at the launch of his book in the home of presidents, Washington, DC.
We would like to take this opportunity to wish Iain every success with the book. We look forward to the next one!
Griffin Law is a dispute resolution firm comprising innovative, proactive, tenacious and commercially-minded lawyers. We pride ourselves on our close client relationships, which are uniquely enhanced by our transparent fee guarantee and a commitment to share the risks of litigation.  For more details of our services please email justice@griffin.law or call 01732 52 59 23.
GRIFFIN LAW – TRANSPARENT FEES. TENACIOUS LAWYERS. TRUSTED PARTNERS.
Nothing in this document constitutes any form of legal advice upon which any person can place any form of reliance of any kind whatsoever. We expressly disclaim, and you hereby irrevocably agree to waive, all or any liability of any kind whatsoever, whether in contract, tort or otherwise, to you or any other person who may read or otherwise come to learn of anything covered or referred to in this document. In the event that you wish to take any action in connection with the subject matter of this document, you should obtain legal advice before doing so.
© Griffin Law Limited, 2023. All rights reserved.