The Griffin Law Charitable Foundation was created by our founder to support national and international charities that fit with the Foundation's ethos and pre-established requirements. Each month, the trustees of the Foundation meet to discuss how to dispense up to £1,000 to good works that may benefit from our funding. This holiday season we are adding to the Foundation's disbursements by doing something a little different.
As a firm, we have made the environmentally responsible decision not to send Christmas cards.
The savings in purchase and postage of Christmas cards will be used by
​the Griffin Law Charitable Foundation to support even more charities and good causes.
We would like to take this opportunity to wish you a Merry Christmas and a happy and prosperous New Year.
BEAT – £300
https://www.beateatingdisorders.org.uk
In 1989 as the Eating Disorders Association, BEAT's mission is to end the pain and suffering caused by eating disorders.
The national helpline exists 365 days a year, for anybody impacted by eating disorders, to encourage and empower people to get help and help others quickly. The sooner someone starts treatment, the greater their chance of recovery. The charity also campaigns to increase knowledge among healthcare and other relevant professionals, and for better funding for high-quality treatment, so that when people are brave enough to take vital steps towards recovery, the right help is available to them.
The granddaughter of a very good friend a partner has a serious and life-threatening eating disorder and without the help of Beat her young life (she is 14) may already have been lost by now.
Ralphie Leo Kitcher – £300
https://www.gofundme.com/f/ralphie-leo-kitcher
After the heartbreak of losing their son Huxley, Sophie and Luke welcomed their precious boy Ralphie Leo Kitcher into the world. On Monday 31st October, at 3 weeks old, Ralphie was diagnosed with acute myeloid leukaemia. He has already started an intense round of chemotherapy which will be ongoing for the next 5 months.
Unfortunately, Great Ormand Street Hospital does not provide accommodation for both parents wanting to be close to their children. Local hotels or Airbnb are the only option. The family is raising money to cover accommodation/travel and whatever else may come up along the way.
Community Interest Luton (1173433) – £300
https://www.justgiving.com/fundraising/hannah-solicitors
This is a donation to Iftekhar Shah's (Hannah Solicitors) JustGiving page. Iftekhar ran 10k in order to raise money for 'Keeping Luton Warm'.
Keeping Luton Warm is an initiative driven by Community Interest Luton working with Discover Islam Luton, Connect4Causes, InspireFM and Luton Lions. To raise funds in order to support households that will struggle this winter to pay for their utilities.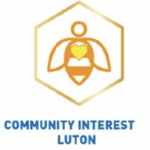 We know the cost-of-living crisis is worsening day by day.  This will be felt hardest by those families already experiencing poverty and struggling to meet the rising cost of food and utilities.
Even before the pandemic and the cost-of-living crisis, a council report in 2019 highlighted nearly half of the children in Luton are growing up in poverty, Luton has some of the most deprived wards nationally.
                                                                                                                                                                                                                                                                      Christmas Donations
Made In Hackney – £250
https://madeinhackney.org/
https://www.avivacommunityfund.co.uk/p/goodfoodforall#start
Made In Hackney believes everyone should have access to enough nutritious food of their preference. It provides life changing cookery courses empowering people to improve their physical and mental wellbeing; and a community food service reducing immediate food poverty. The service is required even more during the current cost of living crisis.
Donations will be matched, by Aviva, up to £250.

Demelza House Festive Wishes Campaign – £300
https://www.demelza.org.uk/support-us/christmas-appeal

By donating to Demelza's #FestiveWishes appeal, we can create more magical moments for children and their families this Christmas and ensure they receive the care and support they need in 2023.
---
If you would like to nominate a charity for a Griffin Law Charitable Foundation donation, please download our due diligence form. The trustees will then review your submission at the next monthly meeting.
The Griffin Law Foundation is a charity registered in England & Wales with charity number 1183766 with its principal office at 60 Churchill Square, West Malling, Kent ME19 4YU.
Griffin Law – Transparent Fees. Tenacious Lawyers. Trusted Partners.