The Trustees met and allocated our monthly donation to these wonderful causes.
Donal Blaney, the Managing Director of Griffin Law, created The Griffin Law Charitable Foundation to support national and international charities that fit with the Foundation's ethos and pre-established requirements. Each month, the trustees of the Foundation meet to discuss how to dispense up to £1,000 to good works that may benefit from our funding.
In-house suggestion – £250  
Baron Deschauer's grandson is autistic. Baron is running the London Landmarks Half Marathon on behalf of the National Autistic Society. This is his Just Giving fundraising page – please consider donating yourself.
https://www.justgiving.com/fundraising/Baron-Deschauer
Unfortunately, this event has been postponed. However, the organisers will reschedule so our donation is still viable.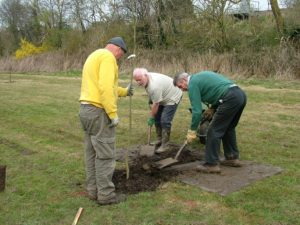 External Submission – Hollingbourne Meadows Trust: Project Woodlands – £500
HMT would like to plant half a hectare of mixed native woodland trees, that are indigenous to Kent. This will provide a valuable habitat for wildlife and a public green space while also sequestering carbon dioxide.  They are looking to do this with help of local youth groups and other charities including the local school.  All their land is freely accessible for everyone to enjoy.
The trustees will next meet next month. If you would like to nominate a charity for a Griffin Law Charitable Foundation donation, please download our due diligence form. The trustees will then review your submission at the next monthly meeting. If you are approved for funding, the Foundation's secretary will be in touch with the next steps.
The Griffin Law Foundation is a charity registered in England & Wales with charity number 1183766 with its principal office at 60 Churchill Square, West Malling, Kent ME19 4YU.