Recent case law emphasises the focus on Alternative Dispute Resolution (ADR), which is heavily supported by the Civil Procedure Rules. The recent case of Hussain v Chowdhury [2020] EWHC 790 (Ch) reiterates exactly this.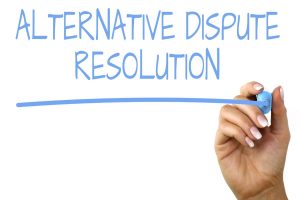 What are ADR procedures?
ADR procedures include:
Independent negotiation – This is not a legally binding negotiation. It is where parties seek to solve the argument by taking a 'cards on the table' approach to the dispute.
Mediation – Again, not legally binding on the parties; however, it allows for a third party to be jointly instructed to assist with communication between the parties. The intention is that the mediator will discuss the issues openly and help the parties reach an agreement. A mediator will remain impartial throughout.
Arbitration – This is legally binding. Again, there is a neutral third-party whom the parties have jointly appointed to help resolve the dispute. The arbitrator will be a specialist in a particular field, i.e. engineering.
Conciliation – This method is not legally binding and is used commonly in employment disputes. Parties are encouraged to dispute the issue out of court in order to reach an agreement. The conciliator may provide their own opinion to help the parties recognise their positions and draw the dispute to a conclusion.
There are positives and negatives to all these approaches. As a client of Griffin Law, we will clearly outline the options and help you to identify which method might steer you towards a swift conclusion and/or a commercially viable necessary next step in formal proceedings.
Hussain[1]
The Hussain case relates specifically to charity proceedings. In charity proceedings the courts must be shown that all parties have actively engaged in ADR. Charity proceedings are governed by the Charities Act 2011, which allows for a person specified under section 115(1) of the Act to bring proceedings. In the case of Hussain, the claimant and defendants were trustees of a religious charity. A dispute arose concerning the purchase of a building for the charity. The Charity Commission concluded that there had been various breaches of the act and recommended corrective measures and for the parties to engage in ADR, specifically mediation. The Charity Commission refused to permit the claimant to continue with proceedings until the parties had engaged in mediation. Despite this guidance, the claimant made an application to the court for permission to continue with the claim. The Judge refused to grant this permission and instead stayed the claim to enable the parties to engage in mediation. The Judge also took it upon himself to note the unsatisfactory manner in which the parties had engaged in litigation prior to this application. The Judge stressed the potential cost saving in ADR; in that it can resolve an issue without lengthy litigation and even if litigation cannot be avoided in its entirety, it may work to limit the issues that need to be litigated. A positive engagement with ADR can lead to the settlement of a dispute and avoid any party incurring substantial and unpredictable litigation costs. The case of Hussain, although focused on the strict requirements of charity disputes, shines a light on the importance of considering and actively engaging with appropriate ADR before and during proceedings. This is consistent with the increasingly pro-ADR approach being taken by the civil courts and is demonstrated in other recent case law such as:
Lomax v Lomax
[2019] EWCA Civ 1467;
DSN v Blackpool Football Club Ltd
[2020] EWHC 670 (QB) and
BXB v Watch Tower and Bible Tract Society of Pennsylvania
[2020] EWHC 656 (QB)). There is benefit to engaging in ADR and one that should be actively encouraged before and during proceedings. It allows the parties to craft a commercial solution to the dispute, maintain long-term relationships and could potentially be cost-saving.
[1]
https://www.lawgazette.co.uk/legal-updates/charity-disputes-and-adr/5107485.article
Image: Alternative Dispute Resolution by Nick Youngson CC BY-SA 3.0 Alpha Stock Images
---
Griffin Law is a niche firm of innovative, proactive, tenacious and commercially-minded lawyers. We pride ours
Griffin Law is a dispute resolution firm comprising innovative, proactive, tenacious and commercially-minded lawyers. We pride ourselves on our close client relationships, which are uniquely enhanced by our transparent fee guarantee and a commitment to share the risks of litigation. 
If you have any specific questions regarding a dispute, please email  
justice@griffin.law
 or call 01732 52 59 23.
GRIFFIN LAW – TRANSPARENT FEES. TENACIOUS LAWYERS. TRUSTED PARTNERS.
Nothing in this document constitutes any form of legal advice upon which any person can place any form of reliance of any kind whatsoever. We expressly disclaim, and you hereby irrevocably agree to waive, all or any liability of any kind whatsoever, whether in contract, tort or otherwise, to you or any other person who may read or otherwise come to learn of anything covered or referred to in this document. In the event that you wish to take any action in connection with the subject matter of this document, you should obtain legal advice before doing so.
© Griffin Law Limited, 2020. All rights reserved.