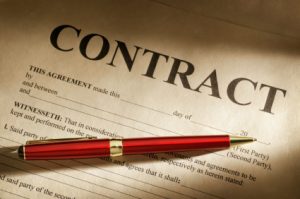 When you are your own boss, cutting corners is not an option. One day it may come around to bite. You have the vision and the expertise to start your own business, but don't fall foul to the legalities needed to make your business run smoothly. It is easy to assume, misinterpret or even avoid understanding the legal framework required to protect you and ultimately, your business finances. The advice is simple, ensure that you have watertight contractual agreements including;
terms and conditions;
risk assessments; and
other contracts you may be entering in to.
Five steps you should take immediately for all of the above, if you haven't already done so:
Understand your (intended) client/customer base including how you form contractual arrangements with them;
Set out your long term objectives of the company i.e. will you always want to be in a position of chasing bills or would you prefer to be on the front foot;
Reflect on how you intend on generating income and profit for the company;
Reflect on whether your terms and conditions and/or contractual arrangements hinder your ability to generate that income and profit;
Have a solicitor either draft or review your terms and conditions/contractual arrangements – a small cost now can save you in the long run.
As a law firm specialising in litigation, we often see the devastating effects caused by inadequate legal documents, both financially and emotionally. Nobody wants to see their clients go through litigation, even a litigation firm. Simple tips for a good legal framework that won't break the bank:
Verbal and implied agreements are often made over a handshake. Do not leave it there. Follow up with an email and save it to an accessible folder;
Your legal documents should be bespoke to you. Pulling legal templates from an online site is a great way to save money on legal fees, but investing in a lawyer to tailor documents may in fact save you money in the long run;
Written agreements should be finalised with a signature/date of all parties involved;
Building a relationship with a transparent and trustworthy solicitor is a good idea. The best advice will come from those that know and understand you and your business.
On a lighter note, a small spend at the outset on the advice and drafting of the contractual arrangement can save you and your business considerable sums of money in the long term. We will happily look through your documents free of charge and only charge based on the work needed to make your framework watertight. Cutting corners with your legal framework could cost you and your business in the long run.  Your objective should be to have confidence to lean on your legal documents. To avoid litigation altogether and have time to run your business successfully. If however you have fallen foul to problems with your documentation and require legal assistance in the form of litigation, we are here to help.
Griffin Law is a dispute resolution firm comprising innovative, proactive, tenacious and commercially-minded lawyers. We pride ourselves on our close client relationships, which are uniquely enhanced by our transparent fee guarantee and a commitment to share the risks of litigation. 
If you have any specific questions regarding a property dispute, please email  
justice@griffin.law
 or call 01732 52 59 23.
GRIFFIN LAW – TRANSPARENT FEES. TENACIOUS LAWYERS. TRUSTED PARTNERS.
© Griffin Law Limited, 2022. All rights reserved.