Covid-19 HMRC SMS phishing scam targets passport details of self-employed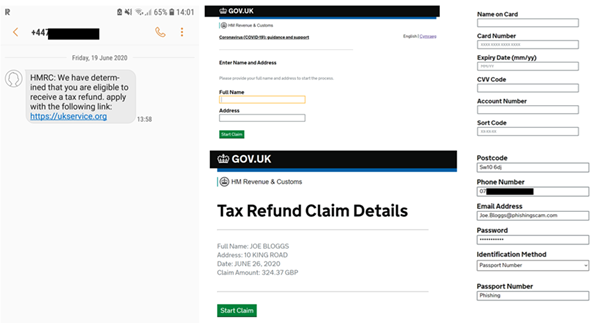 London: 30th June 2020: Self-employed workers are being targeted with a new SMS phishing scam, designed to obtain the victim's passport number, home address, and bank account details.  The scheme, uncovered by Griffin Law, beings with a text message purporting to be from HMRC, telling the recipient they are due a tax refund and should apply online via a site with the URL http://ukservice.org. 
The site uses official HMRC branding and is entitled 'Coronavirus (Covid-19) guidance and support". It asks visitors for personal details including their name, home address and government gateway log-in credentials. The form then calculates a 'tax refund' which always gives the result of £324.37, event when fake credentials are entered.
Users are them asked to provide their personal bank details in full, including the expiry date, name on the card, sort code and Card Verification Value (CVV). A new aspect of the latest scam is that it also asks for 'verification' of the user by requesting the passport number for the purpose of identity theft. Errors in the website code have been noted by suspicious users, including links for 'extra information' and 'cookies' leading to broken links. 
So far, Griffin Law has ascertained that around 80 self-employed London-based workers have reported receiving this scam to their respective accountant. 
"It's high time HMRC, the ICO and the police work more closely together, using the many powers they already have, to stop ordinary taxpayers being scammed like this. It's high time taxpayers were properly protected from conmen who are taking advantage of the pandemic in such a despicable way as this".

Donal Blaney, Principal, Griffin Law
This research has been reported in several publications.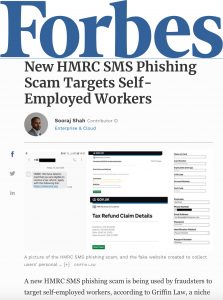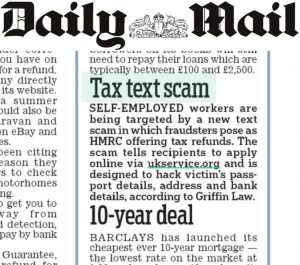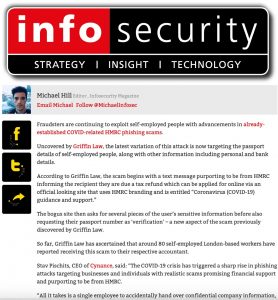 HMRC has said it is aware of a number of Covid-19-related scams and has published a detailed list of the various rouses they use. These include a number of refunds scams sent via email, text message, via WhatsApp, social media and over the phone. It said it will never ask for personal or financial information when it sends text messages to taxpayers.
Anyone who receives a suspicious message claiming to be from HMRC and offering a tax refund in exchange for personal or financial details should not reply or open any links in the message, it advised.
---
Griffin Law is a dispute resolution firm comprising innovative, proactive, tenacious and commercially-minded lawyers. We pride ourselves on our close client relationships, which are uniquely enhanced by our transparent fee guarantee and a commitment to share the risks of litigation.  If you have any specific questions regarding a dispute, please email  justice@griffin.law or call 01732 52 59 23.
GRIFFIN LAW – TRANSPARENT FEES. TENACIOUS LAWYERS. TRUSTED PARTNERS.
© Griffin Law Limited, 2022. All rights reserved. Nothing in this document constitutes any form of legal advice upon which any person can place any form of reliance of any kind whatsoever. We expressly disclaim, and you hereby irrevocably agree to waive, all or any liability of any kind whatsoever, whether in contract, tort or otherwise, to you or any other person who may read or otherwise come to learn of anything covered or referred to in this document. In the event that you wish to take any action in connection with the subject matter of this document, you should obtain legal advice before doing so.