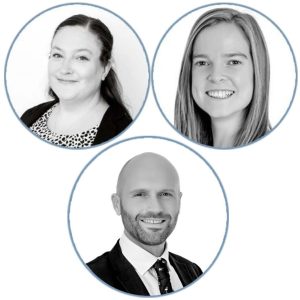 Seasoned professionals
Griffin Law is delighted to announce the promotion of two of our lawyers, Keeley Parry, and James Day, to Associate.
This enhanced title not only reflects the time passed since they qualified, but also the wealth of experience they have accumulated through the diverse range of legal issues that have landed on their desks.
Griffin Law is dedicated to the individual development of our team members. Promoting from within is a constant goal and to do this requires focus from both parties as we learn and grow together.
Keeley Parry
We are proud to have nurtured Keeley through her entire legal career to date. Keeley joined us in 2017 as a paralegal, and completed her training contract with us, qualifying in October 2018. Fast forward six years and two babies, and she is not only a proud mother, but also the Firm's go-to family lawyer. Keeley has always aimed high, securing a Distinction in her Legal Practice Course from BPP University, and securing her Masters in Legal Practice: focus on matrimonial and commercial law, with Distinction. We can't wait to see what she does next!
James Day
James joined us as a lawyer in 2019 and experienced a baptism of fire by being immediately deployed to do battle for the Firm's largest client, in addition to attending to a multitude of other cases. Fortunately, multitasking comes naturally to him. This, and his boundless enthusiasm have led him to develop new business and by the constant stream of positive testimonials we receive from his clients we think we picked a winner. Here is an example.
"I write to express my gratitude for James Day's assistance regarding a difficulty I was having with a claim against a travel insurance company who refused outright any form of liability whatsoever.

James has been extremely helpful in guiding me in the right direction and I felt it worthy that I send this email to you to offer a huge thank you to this member of your team regarding his professionalism and expertise in picking up details in the policy to my benefit, which certainly I would never have spotted.

Having spoken with him also yesterday, I consider him to be a thorough gentleman."
Henry Jaffe, Portman Lodge LTD.
Leonie Savory
Not all our talent is home grown! Griffin Law is always on the lookout for exceptional new lawyers to expand our expert dispute resolution team and we were thrilled when Leonie Savory joined us as Associate earlier this year.
Leonie settled in straight away at Griffin Law. She advises and represents on a wide variety of matters, including but not limited to construction, insolvency, boundary disputes and commercial disputes. During her time assisting with commercial litigation, Leonie has successfully resolved many debt disputes, both for claimant and defendant clients, has followed disputes through to the winding up of companies, and has had many successful injunction applications.
Leonie is also a qualified mediator: a service that Griffin Law will be developing in the coming months. Watch this space!
Congratulations to our A-Team.