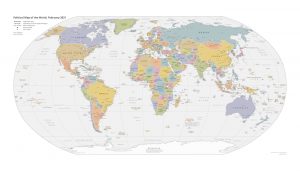 The enforcement of foreign judgements is a crucial part of cross-border legal disputes. It prevents legal costs from spiraling exponentially, and permits a greater access to justice by allowing an individual to secure a judgement in their own country, which can then be enforced by foreign courts around the world. For example, through legislation, agreements and conventions, it is possible for a money order made in the Cayman Islands for a judgement passed in Singapore against the Taiwanese government to be enforced in the Courts of England and Wales. This sequence of events occurred in Strategic Technologies v Procurement Bureau of the Republic of China Ministry of National Defence [2020]. One such instrument that allows foreign enforcement in the English courts is the Administration of Justice Act, 1920. The AJA operates for a broad variety of non-EU countries with historic links to Britain, including numerous Caribbean Islands, Malaysia, New Zealand, Nigeria, Singapore, Sri Lanka and many other UK Overseas Territories, for example the British Virgin Islands. Under the AJA, for a foreign judgement to be recognized and enforced in English courts, a number of requirements must be fulfilled. First, the judgement obtained must be from a superior court in the jurisdiction it was originally obtained in. The statutory instrument for each country or territory will list their superior courts; for example, New Zealand's superior court is their High Court. Secondly, the judgement itself must be 'final and conclusive', and be for a sum of money, other than taxes; fines and other penalties are exempt. To provide an example, in Standard Chartered Bank v Zungeru Power, an application to register a Nigerian judgement at the English Court was set aside because the judgement consisted of a freezing order and disclosure order. Neither of these were money judgements. The third, and most crucial point, is the question of whether the court in question had the jurisdiction to pass judgement on the matter. There are two ways this can be satisfied; either through territorial or consensual jurisdiction. Territorial jurisdiction requires the original court's jurisdiction to be where the debtor carried on business, or was ordinarily resident in the country. Returning to Standard Chartered, the debtor in the case, Standard Chartered Bank, had no office or establishment in Nigeria, and carried on no business in the country whatsoever. The English Courts therefore ruled the Nigerian court had no jurisdiction to hear the matter, and any judgement made there could not be enforced by the English Courts. Consensual jurisdiction, by comparison, simply means the debtor agreed to the jurisdiction prior to proceedings, voluntarily appeared in proceedings, or became a claimant or counter-claimant in the case. Revisiting Standard Chartered for a final time, the final reason why the application was set aside was because the debtor was unaware of proceedings taking place in Nigeria, and had taken no part in the proceedings as a result. If either territorial or consensual jurisdiction is considered fulfilled, the original court will be found to have jurisdiction, and once all three of these criteria are met, the judgement can subsequently be enforced by the Courts of England and Wales.  
---
Griffin Law is a dispute resolution firm comprising innovative, proactive, tenacious and commercially-minded lawyers. We pride ourselves on our close client relationships, which are uniquely enhanced by our transparent fee guarantee and a commitment to share the risks of litigation. 
If you have any specific questions regarding a dispute, please email  
justice@griffin.law
 or call 01732 52 59 23.
GRIFFIN LAW – TRANSPARENT FEES. TENACIOUS LAWYERS. TRUSTED PARTNERS.
Nothing in this document constitutes any form of legal advice upon which any person can place any form of reliance of any kind whatsoever. We expressly disclaim, and you hereby irrevocably agree to waive, all or any liability of any kind whatsoever, whether in contract, tort or otherwise, to you or any other person who may read or otherwise come to learn of anything covered or referred to in this document. In the event that you wish to take any action in connection with the subject matter of this document, you should obtain legal advice before doing so.
© Griffin Law Limited, 2021. All rights reserved.