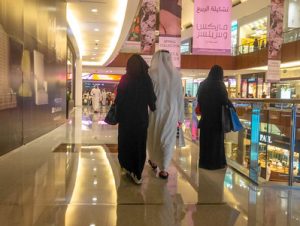 UAE Wife files for divorce after being "choked" by Husband's "extreme love and affection"
In an unusual divorce case, a UAE Wife has filed for divorce in a Sharia court in Fujairah after complaining that her life was "hell" due to her Husband being too kind to her. The couple have only been married for a year and have not had a single argument.
The Wife explained, "I am choked by his extreme love and affection. He even assisted me in cleaning the house without my asking him". She maintained, "I am eagerly longing for a single day of dispute, but this seems impossible with my romantic husband who always forgave me and showered me with daily gifts. I need a real discussion, even an argument, not this hassle-free life full of obedience".
The Husband has asked the court to deny her request for a divorce and explained, "It's not fair to judge a marriage from the first year, and everybody learns from their mistakes. I am and always wish to be a perfect and kind husband."
He had tried his best to please his Wife and even went on a strict diet and exercise regime when his Wife complained about his weight, leading to him fracturing his leg in the process.
The Wife instead considered that his "cruel-free treatment" was too much for her and "his love and compassion are so over the top".
It was no surprise that the court adjourned the case to encourage the couple to reconcile and settle their issues between themselves.
Were the same situation to arise in the UK, the Wife would have had to rely on the fact of unreasonable behaviour to petition for divorce and there is a high risk that a court in England and Wales would also reject his behaviour as being unreasonable and encourage the parties to settle their disputes without resorting to divorce proceedings.
If you are considering divorce proceedings and wish to talk through your situation to determine whether you could petition for divorce, please call our family solicitors on 01732 525923 or email justice@griffin.law and we will be happy to discuss this with you.
Griffin Law, a The Legal 500 Leading Law Firm, is a niche litigation firm of innovative, proactive, tenacious and commercially-minded lawyers who guarantee to share the risk of litigation with every client. We deal solely with litigation cases and our expertise has been recognised by our peers and the media in the form of awards and testimonials.