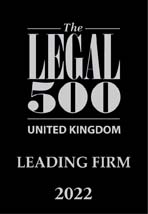 We're very excited to report that we have been included in 
The Legal 500 United Kingdom 2022 Rankings,
the leading guide to law firms and solicitors in the UK. To put it in perspective, more than four million users visit 
The Legal 500
website each year and this guide offers those buying legal services in the UK, reliable and up-to-date information on law firms. Their inclusion of Griffin Law reflects our unique approach to risk-sharing through the use of discounted, hourly rate conditional-fee agreements to all clients of the firm, whose claims range from the low thousands to in excess of £200m. We are unique in guaranteeing to share the risks of litigation with every client through the use of discounted hourly rate conditional fee agreements. Clients of the firm whose claims range from the low thousands to in excess of £200m include international businesses, PR agencies and professional services firms, small business owners, company HR and finance departments, families, politicians and high-net-worth individuals.
---
Some testimonials:
'Griffin Law has become my go-to firm for any commercial litigation matters regardless of size or complexity. They consistently have outperformed any central London firms I have worked with and punch well above their weight without the price. I've always felt part of the team and remained informed throughout. They are both transparent and reasonable with their billing. They never back down from a challenge and I would never use anyone else.'
'The team at Griffin Law is excellent in its communication skills, unlike a lot of other solicitors. More often than not you want regular updates on the work that is being done and the timescale in which they hope to achieve this, and Griffin Law excel in keeping us up to date at all times.'
'The firm specialises in dispute resolution. This is a potentially difficult type of work as tensions are usually high between the parties including their client. Management of the problem is key and listening to their client is really important, which they do. They explain in simple terms the procedure and warn of weakness and strength of argument.'
'The commercial litigation team is an oasis of commercial pragmatic advice in an otherwise roiling sea of uncertainty. Griffin Law possess a deep understanding of the unique challenges faced by businesses in the COVID-19 landscape and never shy away from advising the client of their options, no matter how unpalatable they may be. They are unique (as far as I am aware) in actively electing to share risk on cases they take on as they regard themselves as true partners in a clients' case, standing shoulder to shoulder in the battle ahead. Their rates compare very favourably with their dressier London contemporaries, but make no mistake, Griffin Law can mix it with the best of them.'
'Griffin is a superb and entrepreneurial boutique litigation firm. It provides blue chip-level litigation services but by virtue of its regional base does so at extremely good value. The secret of this success seems to be very careful recruitment, as the lawyers practising at the firm are invariably excellent. Its impressive client-base is testimony to this strength.'
'Mark Edmonds is a straight-talking litigator who has consistently cuts through the noise of a claim to get right to the important issues before presenting an elegant and cost-effective solution. He is extremely robust in dealing with the opposition while keeping costs down. I cannot endorse him highly enough.'
'Donal Blaney is a highly ingenious and strategically-minded solicitor. Perhaps because of his own business success as principal of the firm he is extremely commercially aware and entirely focused on the best possible outcome for the client. He is indefatigable in pursuit of his clients' interests and easily digests the most complex scenarios.
'Neil Kelley has great experience and wisdom. He is never rattled, always measured and has an unerring instinct for positioning his clients most favourably from the perspective of the court.'
Charitable activities
Special attention was made of our charitable work through
The Griffin Law Charitable Foundation 
which supports local Kent charities and other deserving causes. Also mentioned was
Griffin Law's Ethical Litigation Practice
, an initiative to encourage positive change for vulnerable people both nationally and internationally via various initiatives, including the international charity
HearTheirCries.org
which fights for victims of pedophiles and rapists hiding within aid agencies. Griffin Law was also recognised for its commitment to promoting
diversity, inclusion and equality
of opportunity for all staff and job applicants.
Andrew MacLeod, Chairman of Griffin Law
, said of the ranking:
"We're very honoured to have been recognised by our peers for all our hard work and ruthless dedication to providing the very highest levels of service in commercial litigation – a commitment we display in all areas of our practice. Our team gets stronger and better each year and I commend them for their diligence, expertise and professionalism. I especially want to thank our clients for allowing us to partner with them and for trusting in our unique – and often unconventional – approach to litigation. I believe the testimonials prove that we "walk the talk".
---
For further information about Griffin Law, this award or our charitable activities, please contact Gemma Baldock on 01732 525923 or by email at
gemma@griffin.law
.
Griffin Law is a dispute resolution firm comprising innovative, proactive, tenacious and commercially-minded lawyers. We pride ourselves on our close client relationships, which are uniquely enhanced by our transparent fee guarantee and a commitment to share the risks of litigation. 
If you have any specific questions regarding a dispute, please email  
justice@griffin.law
 or call 01732 52 59 23.
GRIFFIN LAW – TRANSPARENT FEES. TENACIOUS LAWYERS. TRUSTED PARTNERS.
Nothing in this document constitutes any form of legal advice upon which any person can place any form of reliance of any kind whatsoever. We expressly disclaim, and you hereby irrevocably agree to waive, all or any liability of any kind whatsoever, whether in contract, tort or otherwise, to you or any other person who may read or otherwise come to learn of anything covered or referred to in this document. In the event that you wish to take any action in connection with the subject matter of this document, you should obtain legal advice before doing so.
© Griffin Law Limited, 2020. All rights reserved.