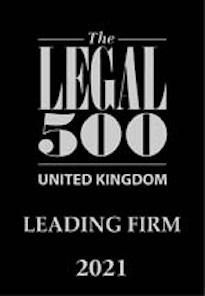 We are extremely honored to have been included in 
The Legal 500 United Kingdom 2021 rankings. 
The Legal 500 United Kingdom
 is the leading guide to law firms and solicitors in the UK. More than four million users visit
The Legal 500
website each year and this guide offers those buying legal services in the UK, reliable and up-to-date information on law firms.
The Legal 500 United Kingdom 2021 rankings 
reflect detailed analysis of law firm submissions and thousands of interviews with GCs (General Counsels) and private practice lawyers, conducted by our team of experienced researchers in accordance with their 
guidelines
. Their entry for Griffin Law reflects the values we describe in our slogan: Transparent Fees. Tenacious Lawyers. Trusted Partners. It describes our unique approach to risk- and cost-sharing. We are particularly touched by the very kind testimonials from our clients.
COMMERCIAL LITIGATION: KENT, SURREY AND SUSSEX TIER 4 GRIFFIN LAW FIRM PROFILE
Griffin Law is an award-winning, niche litigation practice of innovative, proactive, tenacious and commercially-minded individuals that give expert cost-effective legal advice to individuals and businesses globally who are involved in disputes of all kinds. The Firm was founded in January 2008. The Firm is unique in guaranteeing to share the risks of litigation with every client through the use of discounted hourly rate conditional fee agreements. Clients of the Firm whose claims range from the low thousands to in excess of £200m include international businesses, PR agencies and professional services firms, small business owners, company HR and finance departments, families, politicians and high net-worth individuals.
The Legal 500 United Kingdom 2021 commented:
Griffin Law handles commercial litigation for clients in all sectors. The team is co-headed by principal and managing director Donal Blaney and Neil Kelley. Blaney is 'as shrewd as they come' with experience in handling financial disputes as well as trust and tax disputes. Mark Edmonds specialises in insolvency and commercial disputes and is praised as 'the most no-nonsense litigator around'; Laura Ware is 'junior yet far above her years'.
TESTIMONIALS
'A phenomenal team providing a world-class service for individuals and companies alike. I have cause to work alongside repeatedly and the work they produce is outstanding and they punch well above their weight locally, nationally and internationally.'
'Laura Ware – junior yet far above her years. Very personable, compassionate and has a real knack for things.'
'I have worked only with Mark Edmonds at Griffin Law so cannot comment beyond him. My understanding is that the firm (through Mark) offers exceptional value for money in the commercial dispute resolution arena, and is a great option for those who want London quality service but do not want to pay London prices.'
'Mark Edmonds is the most no-nonsense litigator around. Blessed with common sense and a robust approach, Mark cuts through the noise and gives clients straightforward advice, and opponents no quarter. Mark is a pleasure to work with, and a refreshing antidote to the stuffy and slightly pompous commercial litigators it is common to find at some of the larger London firms.'
'Mark Fleet has been excellent and he has shown himself to be very attentive and sympathetic to the case. More importantly, he seems to have some very good relationships with the clerks that organise barristers' schedules. He was able to provide an excellent package of young barristers/pupils on the small claims work all the way up to QCs on the work that involved the Court of Appeal. Other larger firms I have dealt with make me feel as though the people are interchangeable. That may be the case with Mark but I have always dealt with Mark and he has made sure that any of the back-office work is done with little disruption to me. He provides a clear analysis of the problem and presents possible solutions.'
'They unfailingly back their opinions on the outcome of litigation with their own cash. Risk-sharing is in their DNA which ensures that cases are pursued with maximum vigour and imagination.'
'Donal Blaney is as shrewd as they come – an aggressive litigator in the best sense of the word, he has an uncanny knack of knowing when to deploy the big stick. Mark Edmonds is as good an associate as you will find outside London. He is a master at getting to the heart of a matter and provides clients with the advice they can rely on.'
DIVERSITY AND CORPORATE SOCIAL RESPONSIBILITY
Griffin Law Charitable Foundation
In 2017, Donal Blaney, Director and Principal of Griffin Law, set up The Griffin Law Charitable Foundation to support local charities and other deserving causes. Each month, the trustees of the Foundation meet to discuss nominated charities and causes that may benefit from their funding; charities and causes that are local to the firm and/or close to the firm's employees' hearts. To date, the Foundation has supported over 40 deserving charities and causes. In 2019 the trustees decided that it was the right time to extend the scope of its donations. To this end, the Foundation has opened up the opportunity to nominate charities to its clients and to the general public. The due diligence form and nomination process can be accessed on the Griffin Law website, https:/www.griffin.law/griffin-law-foundation/
Ethical Litigation Practice
In 2017 Griffin Law set up an "Ethical Litigation Practice" to encourage positive change for vulnerable people both nationally and internationally via various initiatives. The initiatives are aimed at protecting victims of child abuse & sexual exploitation committed by volunteers & employees of charities and the UN. Griffin Law are currently working pro bono with
Hear Their Cries,
 a Swiss-based not for profit association aimed at preventing future abuse; prosecuting perpetrators on behalf of past victims; and raising global awareness. Griffin Law offer charities a "Child Protection Audit" to help prevent future child abuse. This involves reviewing internal processes of charities; strengthening internal procedures; and advising on how to make preventative measures more robust. Griffin Law's Chairman has been fighting for this cause for over nine years and has been called upon as an expert by the worlds media to raise awareness, educate and address the problem. As a result of Griffin Law advising Hear their Cries on the aspects of British extraterritorial law on child sex offences, Hear Their Cries was the first organisation to publicly advocate for the application of s71-72 of the Sexual Offences Act to the Aid Industry.
Diversity, Inclusion and Equality
At Griffin Law we recognise that our differences in talents, backgrounds, experiences, and cultures puts us in a strong position to serve our equally diverse range of clients by providing them with innovative and creative solutions. We are committed to promoting diversity, inclusion and equality of opportunity for all staff and job applicants. We aim to create a working environment in which all individuals are able to make best use of their skills, free from discrimination (direct or indirect), victimisation and/or harassment. We do not discriminate against employees on the basis of any protected characteristic. We appoint, train, develop, reward and promote on the basis of merit and ability. The principles of diversity, non-discrimination and equality of opportunity also apply to the way in which our employees treat visitors, clients, opponents (and/or their representatives), suppliers/business partners and former staff members.
---
Griffin Law is a dispute resolution firm comprising innovative, proactive, tenacious and commercially-minded lawyers. We pride ourselves on our close client relationships, which are uniquely enhanced by our transparent fee guarantee and a commitment to share the risks of litigation. 
If you have any specific questions regarding a dispute, please email  
justice@griffin.law
 or call 01732 52 59 23.
GRIFFIN LAW – TRANSPARENT FEES. TENACIOUS LAWYERS. TRUSTED PARTNERS.
Nothing in this document constitutes any form of legal advice upon which any person can place any form of reliance of any kind whatsoever. We expressly disclaim, and you hereby irrevocably agree to waive, all or any liability of any kind whatsoever, whether in contract, tort or otherwise, to you or any other person who may read or otherwise come to learn of anything covered or referred to in this document. In the event that you wish to take any action in connection with the subject matter of this document, you should obtain legal advice before doing so.
© Griffin Law Limited, 2020. All rights reserved.