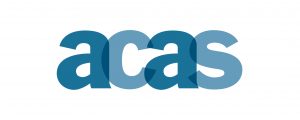 An employee can no longer bring an employment tribunal claim without first using the Advisory Conciliation and Arbitration Service (ACAS). ACAS is the body responsible for conciliation and arbitration and is available to both parties. Its main purpose is to liaise with the employer and the employee to assist in reaching early settlement between the parties.
The role of ACAS is not to discuss the merits of the employee's claim but to try to orchestrate early settlement between the parties. Types of claims which will need to go through this process are unfair dismissal, discrimination, breach of contract, unlawful deduction of wages and equal pay. If ACAS are unsuccessful in settling the claim, the employee will be given a unique reference number that he/she must use in order to issue the claim. Once an employee issues a claim, the claim is put through a sifting stage. During the sifting stage, an employment tribunal will assess the merits of the claim; those claims with no merits will be rejected. Employers may be tempted to ignore the ACAS representative and wait to see whether the claim is rejected in the sifting stage. The risk here is an employee may then be aggrieved and could want an increase in compensation because of the additional costs incurred in issuing the claim. This could result in employers paying out more in the long run. Employers should be aware that from 6 April 2014 the tribunal can award financial penalties against an employer who loses at trial, providing there are aggravating factors present. These penalties range from £100 to £5,000 if no compensation is awarded or can equate to up to 50% of the compensation awarded, should there be an award of compensation. Although it is not clear what constitutes aggravating factors, it could simply be where the employer repeatedly breached the employment right concerned. Taking the above into consideration, there are strong incentives for parties to try to settle the claims before they have entered the tribunal arena.
Griffin Law is a dispute resolution firm comprising innovative, proactive, tenacious and commercially-minded lawyers. We pride ourselves on our close client relationships, which are uniquely enhanced by our transparent fee guarantee and a commitment to share the risks of litigation. 
If you have any specific questions regarding a dispute, please email  
justice@griffin.law
 or call 01732 52 59 23.
GRIFFIN LAW – TRANSPARENT FEES. TENACIOUS LAWYERS. TRUSTED PARTNERS.
© Griffin Law Limited, 2022. All rights reserved.