The Tesco 'free 4K TV scam' phishing scam targeting UK shoppers hit the news today and instantly attracted attention.   
A new email phishing scam, falsely purporting to be from leading UK supermarket Tesco, is being used to steal confidential data and payment details from consumers. The scam, which uses a fake Facebook page as well as SMS and email communication to trick UK consumers into handing over their details was uncovered

by Griffin Law, a leading litigation practice. The fraud began with a fake Facebook page, entitled 'Tesco UK', using official branding. The page shared images purporting to be from a Tesco warehouse, displaying packed boxes of Samsung 55" Ultra High Definition televisions, which can be worth up to £500. The accompanying message said:
"We have around 500 TV's in our warehouse that are about to be binned as they have slight damage and can't be sold. However all of them are in fully working condition, we thought instead of binning them we'd give them away free to 500 people who have shared and commented on this post by July 18th."
Unsuspecting users then enthusiastically shared the post, hoping to qualify for a free television, inadvertently spreading the scam. One user wrote on Facebook, "I'd love to, thank you Tesco!" whilst another questioned the authenticity of the site. Hours later, users reported receiving a sophisticated email scam, again using Tesco branding and offering them the chance to 'claim their prize'.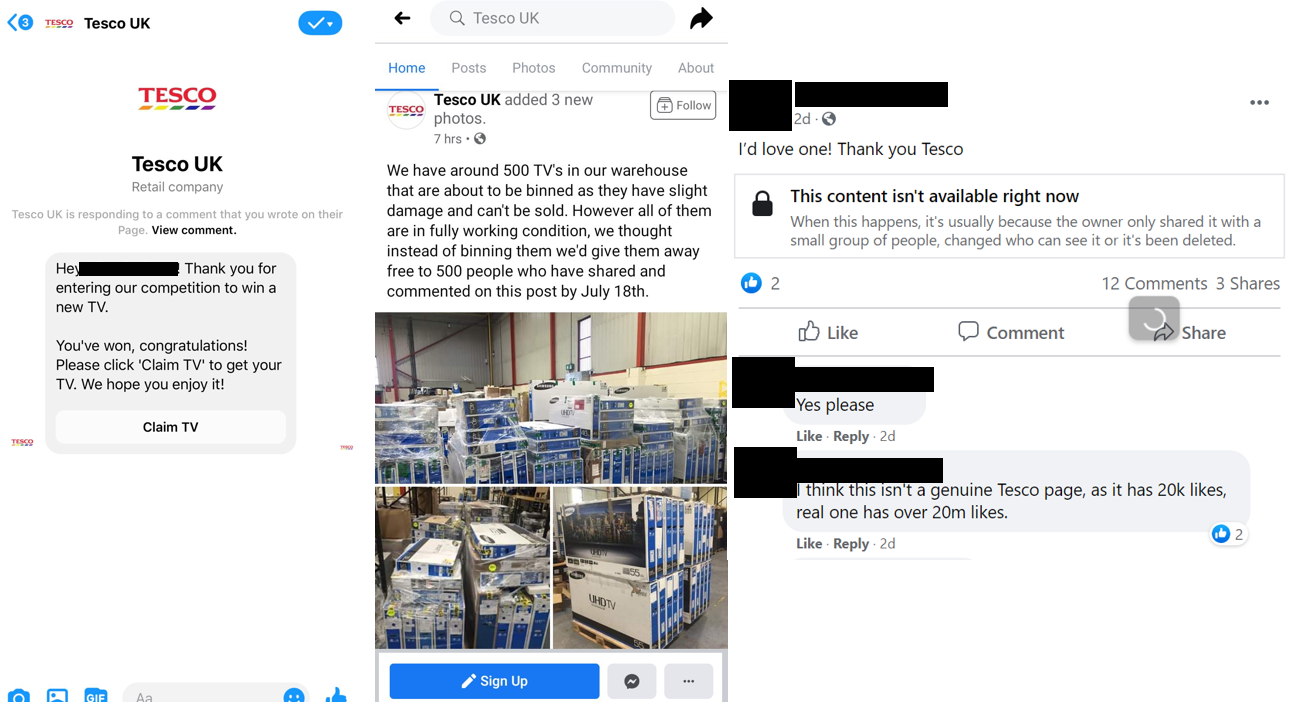 The email reads:
"Hey [Victim's name]! Thank you for entering our competition to win a new TV. You've won, congratulations! Please click 'Claim TV' to get your TV. We hope you enjoy it!"
A button in the email directs the users to a landing page where they can enter their name, home address, telephone number and bank account details. Griffin Law's research team has already established that at least 100 consumers have reacted to the Facebook page or received an email. The original fake Tesco Facebook page is now listed as 'Content unavailable.'
Donal Blaney of Griffin Law said, "If it looks too good to be true – don't touch it! These scammers know exactly how to entrap us. They will use fear or greed to make us react. We are seeing more and more sophisticated scams featuring psychological tricks. Here, they used a store we trust, told a plausible story and let our desire for a new TV do the rest. If you see an email/SMS message like this, call the company to check it's legitimate. If it isn't, tell the company about it and file a report with the authorities. If you were tricked and had your identity stolen you need to take immediate steps to remedy the problem."

---
Griffin Law is a niche firm of innovative, proactive, tenacious and commercially-minded lawyers. We pride ourselves on our close client relationships, which are uniquely enhanced by our transparent fee guarantee and a  commitment to share the  risks of litigation. If you have any specific questions regarding cyber security litigation, please email  justice@griffin.law or call 01732 52 59 23.
Griffin Law – Transparent Fees. Tenacious Lawyers. Trusted Partners.