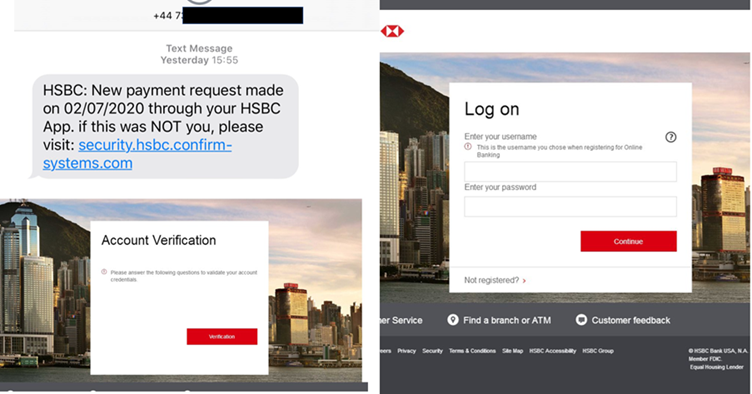 UK workers are being targeted by a new SMS phishing scam designed to trick victims into handing over details of their HSBC bank account.
The scheme, uncovered by litigation specialists Griffin Law, beings with a text message purporting to be from HSBC, the multinational banking and financial services organisation, telling the target that 'a new payment has been made' through the HSBC app on their phone. The message tells the victim that if they were not responsible for the payment, then should go to a site called "Security.hsbc.confirm-systems.com" to validate their bank account.
The are then directed to a fake landing page, which asks for their username, password, followed by a series of verification steps. The fraudulent site, which uses official HSBC branding, then accounts for specific account details and personal data of the individual.
Griffin Law's research team, which liaises with over a dozen accountancy groups and financial support teams across London has seen a spike in reports of the scam, with an estimated 47 people coming forward to say they have received the text message so far. Some workers have identified the scam due to the fact that they do not even have a HSBC app installed on their phone.
There have been no current reports of the scam being successful.
Donal Blaney, principal, Griffin Law comments:
"This is the latest in a series of phishing scams involving HSBC branding. It is vitally important that banks are on the front-foot when these incidents arise, providing the necessary online support and awareness for hard-pressed UK taxpayers who are struggling to make ends meet during the Covid-19 outbreak"
Griffin Law is a niche firm of innovative, proactive, tenacious and commercially-minded lawyers. We pride ourselves on our close client relationships, which are uniquely enhanced by our  transparent fee guarantee and a  commitment to share the  risks of litigation. 
If you have any specific questions regarding cyber security litigation, please email  justice@griffin.law or call 01732 52 59 23.
Griffin Law – Transparent Fees. Tenacious Lawyers. Trusted Partners.