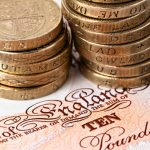 Griffin Law is unique as an English law firm. We guarantee to share the risk of litigation with every client.
Initial Risk Analysis
As part of our rigorous risk analysis, we undertake a coherent and all-encompassing 360-degree examination of as many potential heads of claim (and the strengths and weaknesses of your case) as is possible and present you with a bespoke Dispute Strategy Memorandum.
You can learn about our Terms of Engagement here, meet our team here and read our clients' testimonials here.
Discounted Hourly Rate Conditional Fee Agreement
If your case is suitable we will then work with you under a discounted hourly rate conditional fee agreement, sharing the risk of litigation with you. Our standard hourly rates are discounted as a case progresses. If a claim fails then that is all that that client must pay us. On success we become entitled to be paid our standard hourly rates together with a success fee, although some of those costs may be recoverable from any unsuccessful opponents.
In this way we have "skin in the game" and an added incentive to win. Additional disbursements will include Counsel's fees, photocopying, travel and accommodation charges and Court fees.
After-the-Event Insurance Protection
Griffin Law is authorized by Temple Legal Protection to issue after-the-event insurance policies of up to £100,000 to protect you against the risk of being ordered to pay any opponents' costs if a claim is unsuccessful. That makes litigation even more attractive as the risks inherent in it are minimized.
Contingency Fee Agreements
We are permitted to enter into contingency fee agreements (where the Firm can take a slice of any winnings, as is commonplace in the United States) in proceedings outside of England & Wales or where a dispute is resolved prior to the commencement of proceedings in England & Wales.
Contingency fee agreements became lawful in England & Wales from 1 April 2013. Griffin Law has adapted its existing model of discounted hourly rate conditional fee agreements so as to guarantee to provide a hybrid of discounted hourly rates and damages based agreements on a sliding scale so that the percentage that we will be entitled to be paid of any damages awarded will change with reference to the risks/merits of a claim and the discounted hourly rate charged as a case progresses.
Fixed Fees & Costs Transparency
As part of our commitment to costs transparency, we can agree to fix fees for different stages of litigation. This provides our clients and their funders with a greater degree of certainty and accords with the direction that is being signalled by the courts with regard to costs budgeting. It also highlights the commercial and reasonable approach that we willingly adopt in working in partnership with our clients, rather than adopting the "take it or leave it" approach that too many lawyers continue to favour.
You can learn about our Terms of Engagement here, meet our team here and read our clients' testimonials here.
To discuss your case with Griffin Law's team of expert lawyers and to learn how we can help you, please call us on 01732 525923, email [email protected] or contact us online.